Braces FAQs from Our Victorville Orthodontist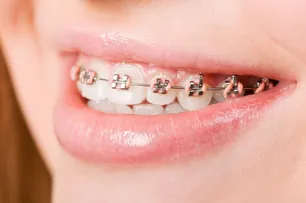 As your premiere choice for braces and other orthodontist services in the greater Victorville area, the team at Dr. Hattar Dental and Orthodontics is proud to offer the highest quality patient care.
Who Needs Braces?
There are a variety of different reasons that malocclusion or misalignment of the teeth and jaw may occur. Because of this, some patients who have teeth that appear relatively straight can still need braces. Asking our dentist about orthodontics is the best way to know if braces may work for you.
How Long Will I Need Braces?
Treatment time depends on each individual patient's specific orthodontic concerns and can vary anywhere from as little as 6 months up to 36 months for more complex cases. On average, most patients complete treatment within 14 to 18 months.
How Often Will I Have Appointments in Victorville?
Appointment frequency depends on each patient's individual needs. Most often, patients will be seen by the orthodontist every 6 to 10 weeks. However, if your specific needs require more frequent monitoring, our team will work hard to schedule appointments that fit your lifestyle needs and guarantee the best possible outcome for your smile.
What Happens at the Initial Examination Appointment in Victorville?
During your initial evaluation, Dr. Hattar will complete an oral, functional and facial examination. Our team will also need to photograph your face and mouth with X-rays and make impressions of your teeth to determine how your teeth and jaws align. After the initial assessment, Dr. Hattar will estimate how long you will need to wear braces and a retainer.
Which Foods Should I Avoid While Wearing Braces?
While it is necessary to avoid certain foods while wearing braces, remember that it's not forever! Some of the foods you should avoid while wearing braces include hard candies, ice, broccoli and any sticky candies. Once your treatment begins, we will further explain which foods and food types you should avoid.
Do Braces Hurt?
Generally, your braces should not cause you a huge amount of pain. However, after certain visits to the orthodontist, your teeth may be sore for a few days. If your teeth are sore, Advil or Tylenol should ease any discomfort.
Are Braces Expensive?
Dr. Hattar offers flexible payment plans with Care Credit. With no interest up to 12 months, this is a great way to get started on your orthodontic treatment. We also accept all PPO insurances, Medi-Cal, most HMO insurance policies and Military insurance policies. All major credit cards are also accepted.
At What Age Should I Ask About Braces?
While every patient is different, the American Association of Orthodontists recommends an orthodontic screening at age 7. This is a great age for early evaluation and could help you avoid costly corrections later on.
Contact Our Local Orthodontist in Victorville Today!
Are you ready to get a healthier and happier smile with braces? If you think you may need braces or other orthodontic treatment, call (760) 243-3595 or visit the friendly and experienced team at Dr. Hattar Dental and Orthodontics online today