Brushing and Flossing Techniques from Our Victorville Dentist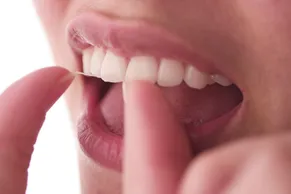 Maintaining healthy teeth and gums starts with the techniques you use to keep your mouth clean. Your techniques while brushing and flossing your teeth allow you to improve the health of your entire mouth or contribute to potential complications. By working with our team at Dr. Hattar Dental and Orthodontics, you learn appropriate techniques in the Victorville areas to maintain healthy teeth and good breath.
Basic Brushing
When you visit a dentist for teeth cleaning, you are given basic instructions about the best way to brush your teeth. Generally, an electric toothbrush provides the cleaning you need for a healthy mouth, but you want to make sure you brush in the correct direction.
Do not brush from side to side. Instead, place the brush at a 45 degree angle, use small circles and move the toothbrush up and down. When using an electric toothbrush, follow a similar up and down pattern. The brush usually turns in a circular motion to help improve your technique. The basic method of brushing your teeth is similar for every individual, even if you wear braces.
Basic Flossing
Flossing is just as important as using a toothbrush to remove plaque. It helps you remove food particles and items from between your teeth and under the gums.
Remove a reasonable amount of floss, such as roughly 18 inches, and then twist the floss around two fingers until you have a space of roughly 2 inches between your fingers. Use your fingers to guide the floss between your teeth and then gently wrap the floss in a cup shape around the tooth. Move the floss gently up and down and then switch to the other tooth. Repeat the process around each tooth.
Making the Most of Your Brushing and Flossing Techniques
While the exact process depends on your toothbrush and any specific recommendations from a dentist or orthodontist, always brush your teeth at least two times per day. Some individuals may need to brush more regularly, but a dentist will determine your exact needs. Floss one to two times per day as recommended by a dental professional. If you floss once in a day, then focus on flossing before bed.
To maintain a healthy smile and catch potential problems like cavities early, visit a dentist for teeth cleaning every 6 or 12 months as suggested by your dentist. Generally, we recommend every 6 months if we have any concerns about the development of cavities or other tooth health concerns. You may need more regular visits when working with an orthodontist in Victorville for general evaluation of your teeth and to adjust the braces when necessary for your teeth. Specific recommendations for a visit depend on your situation.
Visit Our Victorville Orthodontist
Keeping your teeth as healthy as possible depends on several factors. You need to brush and floss every day and you want to make time for regular visits to a dentist. To learn more about keeping your teeth and mouth as healthy as possible or to set up an appointment at Dr. Hattar Dental and Orthodontics in Victorville for an evaluation of your teeth and gums, contact us today at (760) 243-3595.