Dental Sealants from Our Victorville Dentist and Orthodontist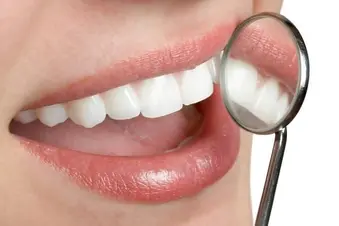 Ideally, teeth would be so smooth, evenly spaced and easy to clean that everyone could prevent cavities completely through normal dental hygiene and periodic dental checkups. Unfortunately, human teeth are prone to forming odd grooves, folds and indentations that make eliminating bacteria and food particles harder than it should be. That's why Dr. Fahed Hattar of Dr. Hattar Dental and Orthodontics offer dental sealants as a simple, effective measure to help keep these hard-to-clean areas free of decay.
Brushing and flossing is an essential aspect of routine dental self-care, and one that is highly effective at removing food particles from flat, smooth tooth surfaces. But up to 75 percent of all tooth decay involves the fissures, pits, grooves and other irregularities that collect food particles and harbor bacteria. The extremely tight spaces between teeth are also hard to keep perfectly free of debris at all times. In these cases it makes good sense to put a physical barrier over the enamel -- and the easiest way to do that is by applying dental sealants.
A dental sealant is an enamel-like plastic resin that is painted onto the tooth surfaces. This fluid dries quickly into a hard, clear (or sometimes white) protective shell. Our dentist will first clean and dry the teeth before applying a preliminary solution that ensures a strong bond. The sealant material is then painted carefully onto the teeth. Some types of dental sealants are hardened by shining a special light on them, while others dry quickly without help.
While dental sealants can be extremely helpful for patients of all ages who wish to avoid tooth decay, the procedure is particularly associated with children. That's partly because the teeth must be free of decay (which many adult teeth have already sustained) to receive sealants. The best time to apply dental sealants is while the teeth are young and still in good condition. Small children may also still be learning how to brush and floss correctly, placing them at high risk for tooth decay. We can apply sealants ether to baby teeth or newly-erupted permanent teeth in children aged 6 to 16.
Years of Tooth Protection for Our Victorville Clients
The application of dental sealants has been protecting teeth successfully for more than 30 years. The sealants themselves can last for many years as long as the teeth are treated with the proper care. Regular brushing and flossing, eating a healthy diet that doesn't promote cavities or tooth damage, and scheduling regular dental exams and cleaning clinic can help our Victorville patients get the longest possible use out of them. Eventually, even the strongest sealants will wear down -- at which point our dentist and orthodontist can reapply them.
Call Dr. Hattar Dental and Orthodontics today at (760) 243-3595 to learn more about dental sealants and schedule an appointment for your child or yourself. We are located in Victorville. It's a smart investment that can help to safeguard your teeth against years of decay!