Victorville, CA Cosmetic Dentistry
Dr. Fahed Hattar knows how important having a healthy, beautiful smile is to the patients he treats in Victorville. As a practitioner of cosmetic dentistry, Dr. Hattar provides a wide variety of dental services to his patients to create a brighter, healthier smile. Services in both Victorville include porcelain veneers, recontouring of gums, dental bridges, titanium implants, fillings that are tooth colored, and whitening for teeth. With the wide variety of options available, Dr. Hattar and his employees are able to give you the best choices when it comes to making over your smile.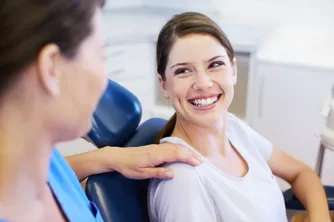 Cosmetic Dentistry Services
When your teeth are stained from food and drinks, it can be pretty difficult to get your teeth looking fresh and clean while using over-the-counter methods. When you want your teeth to look white in an even shade, our Victorville dental practices offer teeth whitening services that will make your teeth look shades whiter. Through methods that are more effective than using products you can buy on your own, you will begin the process of whitening your teeth in the office and keeping up the treatment through take home bleaching trays you will wear several hours a day.
If your teeth are oddly shaped, or can't be whitened using bleaching products, porcelain veneers can be used instead. Veneers are very thin pieces of porcelain that adhere to your teeth permanently, creating a new look for your tooth. Cracks or broken teeth can be straightened by utilizing porcelain veneers and will cover up any extensive flaws forever. If you have a small chip, you can also have the tooth repaired using dental bonding. This is a procedure that repairs your tooth using synthetic materials, creating a tooth that looks just like your old one did.

If you need gum contouring to give your gum line a healthy appearance, you can invest in gum recontouring. This procedure can make your teeth look bigger, and is great for people who have gum overgrowth. If you need tooth straightening, Dr. Hattar implements the Invisalign method, the process of using clear trays without the need for wire braces to fix your teeth.
Teeth can be replaced using a dental crown to cover up the broken tooth, or a dental implant when a tooth is completely gone. In addition, a bridge can be used to replace several teeth that are missing in one area. Bridges are either attached to nearby teeth using metal wires or attached to your mouth using a titanium implant.
At our Victorville dental offices, we utilize dental implant technology to restore missing teeth. This is the most effective and permanent way to replace a completely missing tooth, creating a tooth that looks and acts just like your natural teeth. In addition, we also use fillings that are tooth colored, giving you the confidence to smile, even when you have a cavity filling that can be seen.
What are the Benefits of Cosmetic Dentistry?
If you are someone who avoids looking in the mirror because you don't like the way your smile looks or you've experienced pain and discomfort due to damaged teeth, you may benefit from a consultation with our Victorville cosmetic dentist. Cosmetic dentistry focuses on improving the look and feel of your smile with a number of different available treatments for the teeth, gums, and bite.
Some of the most important benefits of cosmetic dentistry treatment include:
The ability to correct many different aesthetic flaws like staining, misshapen teeth, chips and cracks, gapped teeth, uneven gum lines and more.
Some treatments like teeth whitening can actually help to make patients look younger by reducing common signs of aging like tooth discoloration.
Dental bonding and crowns can also help to prevent future dental damage. These treatment options are designed to help strengthen the teeth by covering up worn edges or hairline fractures, keeping your smile healthier for longer.
The added boost to your self-confidence that comes with a beautiful and bright smile can also have many positive effects on both your personal and professional life. When you love your smile, chances are that you'll feel much more comfortable in all facets of your life.
While many people focus on the aesthetic benefits of cosmetic dentistry, there are many health benefits as well. Far beyond improving the look of your smile, thee safe and effective procedures can help to improve your mental health, boost your confidence and correct bite issues that may make it difficult to eat and keep up with proper oral hygiene.
Your Cosmetic Dentistry Treatment Options
While the benefits of cosmetic dentistry can vary slightly depending on your specific needs and the procedures you select, no matter which options you choose, you can expect to enjoy lasting results that will transform your smile. As a full-service dentist, we offer a wide range of cosmetic dentistry treatment options, including:
Teeth Whitening
Porcelain Veneers
Tooth Restoration
Dental Bonding
Composite Dental Fillings
Dental Bridges, Implants, and Crowns
Smile Makeovers
And More
Contact Our Local our Victorville Dentist Office for More Information Today!

Ready to meet with Dr. Hattar Dental and Orthodontics regarding your cosmetic dentistry needs? Contact our Victorville dentist office today at (760) 243-3595 to schedule your initial appointment.