Dental Exams with our Dentist in Victorville
Your teeth are an integral part of your daily life. You use them to eat and speak, and they're an important part of your appearance. Unhealthy teeth and gums can make day-to-day living difficult. Cavities can make eating uncomfortable, and stained or broken teeth can make you feel self-conscious. Don't make oral care last on the list -- when you take care of your teeth, they'll take care of you.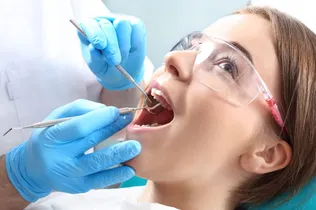 What to Expect During a Dental Exam
Many people fear dental exams. Having anxiety about the dentist is a natural response, but it's important that you work with a dentist who is able to put your mind at ease when you're in the chair. Knowing what to expect during a dental exam can also help you prepare for your appointment.
First, you'll likely have x-rays taken of your mouth. This painless procedure allows the dentist to see your teeth both above and below the gum line and can easily indicate the presence of dental problems. Then, your dentist will perform a visual examination of your teeth to determine what the next steps should be. Based on your current dental health, your dentist will create a customized treatment plan. If you have small cavities, they may be filled at this time; however, many dentists will have you return for your dental work. You may also have your teeth cleaned by a dental hygienist at your appointment.
How Often to Get a Dental Exam
How often you should get a dental exam largely depends on your unique needs. Some individuals with healthy teeth and gums can go a year in between appointments. However, individuals that need dental work or have a high predisposition to gum disease may need to be seen every three or six months. Your dentist will recommend a dental exam schedule that fits your needs.
Benefits of Regular Oral Care
There are many benefits to regular oral care. First and foremost is the treatment and prevention of disease. Regular oral care can also help you to feel more confident about the way you look -- who doesn't want a bright, healthy-looking smile? Additionally, visiting your dentist as recommended can even help keep the rest of your body healthy -- untreated gum disease has been linked to numerous health problems.
Contact a Victorville Dentist and Orthodontist for an Appointment Today
Don't wait to get your next dental exam -- contact a Victorville dentist and orthodontist for an appointment now. At Dr. Hattar Dental and Orthodontics, we provide much more than Victorville dental exams. We can help you achieve the healthy, confident smile you've always wanted. Call us now for an appointment at (760) 243-3595 and let us take care of your oral care needs.