Victorville Dentist and Orthodontist Provides Porcelain Veneers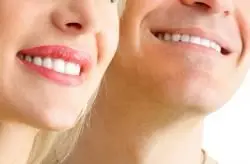 Porcelain veneers can transform your smile. Veneers can recreate or improve upon the look of your natural teeth and restore the beauty of your smile. Porcelain veneers are stronger and more resilient than natural tooth enamel.
These veneers are a thin shell of tooth-colored porcelain or composite material placed over the outer surface of your teeth. Unlike a crown, that covers your entire tooth like a cap, veneers are permanently affixed to the front of your teeth. Strong glue holds the veneers in place, beautifying your smile for years to come.
In comparison to resin veneers, which are a type of veneer made from tooth-colored filling material, porcelain veneers are better at resisting stains and mimicking the light-reflecting properties of natural tooth enamel.
Who Can Benefit from Porcelain Veneers?
Millions of people just like you have already chosen porcelain veneers to change the shape, size or color of their teeth.
Porcelain veneers may be your best option if you have severely dull, worn or discolored teeth, or if you have extensive chipping, cracking, spaces or uneven teeth. Veneers create beautifully aligned and shapely teeth, but they also protect the surface of damaged teeth and can even reduce your need for more extensive treatments.
While porcelain veneers can beautify a smile and protect vulnerable teeth, they are not for everyone. If your natural teeth are functional and esthetically adequate but need a little brightening, for example, teeth whitening may be a better option for you. If your teeth are worn, dull, discolored, chipped, cracked or uneven, porcelain veneers can help.
Dr. Hattar Dental and Orthodontics Offers Porcelain Veneers in Victorville
Our dentist in Victorville offers porcelain veneers to improve the aesthetic appeal of your smile. The first step is to talk with our dentist about the flaws you wish to cover and the results you hope to achieve. Dr. Hattar will then remove a small amount of enamel – about a half a millimeter – from the teeth you wish to cover. Removing the enamel creates room for the thin veneer.
We will clean, polish and etch the teeth to roughen their surface and strengthen the bonding process. Next, our dentist will create a mold of your mouth that laboratory technicians use to custom-create veneers that perfectly match the size, color and shape of the surrounding teeth. Our dentist will add last minute touches to perfect the appearance of your new veneers.
Your dentist will then apply special cement to the veneer and place the veneer on your tooth. After properly positioning the veneer, your dentist will apply a special light beam to the veneer to activate chemicals that harden and cure the cement.
The process requires at least two appointments with our dentist in Victorville, but the benefits of a beautiful smile can last for years.
Make an appointment with Dr. Hattar Dental and Orthodontics for your porcelain veneers today by calling (760) 243-3595!