General Family Dentistry for Victorville
Modern dental medicine includes a number of specialties such as endodontics, cosmetic dentistry, and orthodontic treatment -- all of which we are happy to offer here at Dr. Hattar Dental and Orthodontic. But general dentistry is just as important a discipline, especially where the prevention of oral and dental diseases is concerned. That's why we also provide general dentistry for children, families, and seniors in Victorville.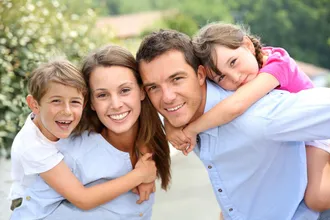 The Importance of Seeing Our Dentist Regularly
General family dentistry centers around twice-yearly examinations, and for good reason. Even if you think your teeth are fine, you could be harboring cavities, dental infections, or even cracks in the teeth that permit bacteria to enter. If you're like most people, you're also at risk for developing periodontal disease, if you don't have it already, due to the buildup of plaque and tartar both above and below the gum line. This disease causes chronic inflammation which may result in tooth loss. Last but certainly not least, oral cancer can pose a deadly threat, and by the time you actually notice it, you may be in a great deal of trouble.
Regular dental appointments can help you get the preventative care your mouth needs so any problems or potential dangers can be dealt with right away. Children also need regular dental checkups to monitor the development of their baby teeth and permanent teeth and to advise children and parents on proper nutrition and hygiene habits. Seniors are especially prone to periodontal disease (related to dry mouth), tooth root damage decay, and problems with their dentures, so regular exams benefit them as well.
Our General Dentistry Services
General dentistry services cover any dental situation that doesn't call for specialized care. These services include:
Checkups and cleanings - Our dentist can examine the teeth, gums, and oral cavity for any signs of disease or injury. At the same time, we can administer professional cleanings to remove tough plaque and tartar buildup.
Fillings - We can provide natural-looking fillings to nip cavities in the bud.
Extractions - When a tooth is too far gone for restoration, extraction may be the wisest course for protecting your oral health.
Sealants - These clear resin barriers are especially useful for protecting children's teeth against decay.
Sleep apnea - Customized night guards can help you manage this significant health risk.
Schedule an Appointment with our Dentist in Victorville Today
Visit Dr. Hattar Dental and Orthodontics to see a dental specialist today to learn more about how we can help you. Call (760) 243-3595 to schedule your next appointment!