Dental Implants by Your Victorville, CA Dentist and Orthodontist
A dental implant is an artificial tooth root that holds a replacement tooth or dental bridge. Surgically positioned into the jawbone below your gums, a dental implant provides sturdy and stable support for an artificial tooth. Dentures or bridges affixed to the dental implant feel natural, and will not slip or shift inside your mouth so you can eat, speak, smile and laugh with confidence.
Endosteal implants
Endosteal, or "in the bone" implants are the most commonly used type of implant, according to the American Academy of Periodontology. Screws, cylinders or blades surgically placed into the jawbone holds one or more prosthetic teeth. Endosteal dental implants are a great alternative for patients with removable dentures or bridges.
Mini Dental Implants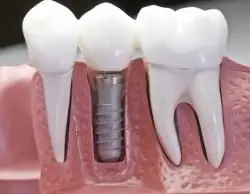 Mini Dental Implants (MDIs) are a type of endosteal implants that are revolutionizing the world of dental implants. Unlike traditional implants that require multiple visits, MDIs allow your dentist to place the anchors in one appointment. Mini implants are self-tapping, threaded titanium screws, which means the implants drill their own hole as your dentist inserts them. The top part of the MDI looks like a ball, which fits snugly into the replacement tooth to hold it securely.
Because they eliminate the need for surgery, MDIs are perfect for patients who cannot undergo traditional dental implant procedures for medical, anatomical or financial reasons. Dentists often recommend mini-implants to stabilize dentures and overdentures, which are removable dentures that secure to implants. MDIs can help you overcome ill-fitting, loose dentures.
Unlike full implants that require significant bone grafting and recovery time, MDIs require no bone grafting and their smaller size means that no recovery period is necessary – our dentist can fit you with the denture the same day as you receive your mini implant.
Subperiosteal Implants
Placed under the gum but on top of the jaw, subperiosteal implants feature a metal framework of posts that protrude through the gum to hold the replacement tooth. Denture wearers with a shallow jawbone may benefit from this type of dental implant.
Benefits of Dental Implants with Dr. Hattar Dental and Orthodontics in Victorville, CA
Dental implants provide a variety of benefits for anyone who wears dentures or has a bridge. Because our dentist expertly matches the color, shape and size of your replacement teeth, dental implants are the most natural looking tooth replacements available today. Dental implants provide a sturdy foundation for your replacement teeth, so they never move unexpectedly as you talk, eat or smile.
Dental implants function like your own teeth, so you can enjoy many of your favorite foods with confidence. Because they are a part of you, your dental implants are also comfortable and easy to care for. Dental implants are durable, beautiful and convenient.
If you have lost one or more teeth and are considering dental implants, make an appointment to speak with our Victorville dentist at Dr. Hattar Dental and Orthodontics. Give us a call today at (760) 243-3595.